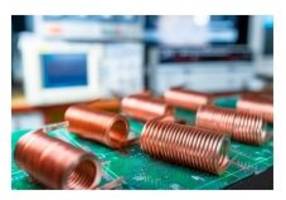 Fluoropolymer materials improve insulation properties of flat wire jackets for high voltage systems
Exton, Pa., June 23, 2022 — Electric vehicle manufacturers are increasingly using flat wire rather than traditional round wire for improved efficiency and higher power output. AGC Chemicals Americas will showcase polymer solutions for flat wire sheath materials that improve insulation properties, flexibility and heat resistance at the Polymers in Cables event, June 28-29 at the Sofitel Philadelphia in Rittenhouse Square, Philadelphia, Pennsylvania.
At booth 10, AGC's wire and cable experts will showcase:
Fluon+™ Adhesive PFA EA-2000 thin insulation fluoropolymer coating applied by liquid/dip process for improved electrical insulation
Fluon+™ PFA materials applied via an extrusion process for better conductor adhesion, better crack resistance and greater flexibility
Fluon+™ PEEK materials applied via an extrusion process for improved conductor adhesion, impact resistance and abrasion loss
Also at the event, AGC Chemicals Product and Development Engineer Keisuke Yagi will discuss innovative flat wire coating material solutions for use as polymer and enamel layers. These solutions can replace pure PEEK, PI and PFA for better performance in critical cable constructions. He will present on Wednesday, June 29 at 12:20 p.m. in Session 5: New Hardware Developments.
For more information on AGC's wide range of material solutions, visit agcchem.com/products.
About AGC Chemicals Americas Inc.
AGC Chemicals Americas is a wholly owned subsidiary of AGC Inc., a $14.2 billion multinational corporation and one of the world's largest manufacturers of glass, electronic displays and chemicals. The company was formed in 2004 through the merger of sister companies Asahi Glass Fluoropolymers USA and AGA Chemicals. Headquartered in Exton, Pennsylvania, including a state-of-the-art technology center, AGC Chemicals Americas maintains manufacturing operations near Thorndale, Pennsylvania, a satellite sales office in Sao Paulo, Brazil, and warehouses located throughout the North America. www.agcchem.com
Media Contact:
Lisa Goetz
Schubert b2b
lgoetz@schubertb2b.com
+1-610-269-2100, ext. 244
Contact this company Download the technical sheet
More building materials and supplies