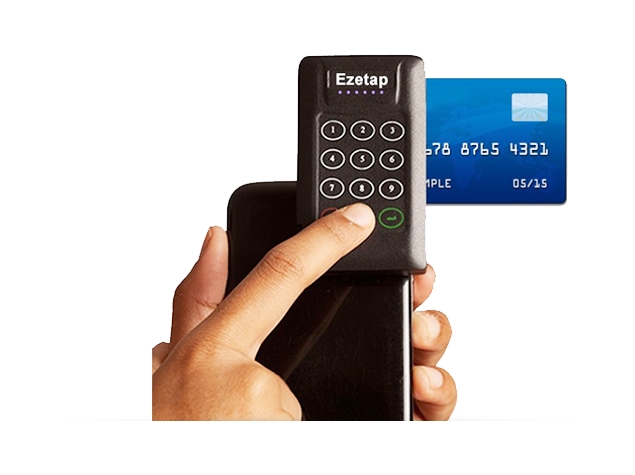 Ezetap targets small towns and villages with mobile point of sale services
Mobile payment solutions startup Ezetap aims to connect small towns and villages in India to businesses through its mobile point of sale (mPoS) services, which it says will also contribute to financial inclusion.
Founded in 2011, the Bangalore-based startup counts PayPal founder Peter Thiel and credit card giant American Express among its investors.
Global banking giant Citibank has approved Ezetap's service as the world's leading mobile point-of-sale (mPoS) service, while the company is Visa's preferred mPoS partner outside the US and Europe .
Ezetap's mobile payment platform, which turns any mobile device into a point-of-sale (PoS) payment terminal, offers a cost-effective alternative like micro-ATM to reach 6,000,000 villages in India and connect with banks, insurance companies and even online shopping sites, a senior company official said.
"Access to cash is seen as a key requirement for banking and most financial inclusion initiatives have had limited success. find an ATM, "Ezetap co-founder and CEO Abhijit Bose told PTI.
Despite the fact that banks are expanding their ATM networks, the size and scope of the problem means the growth rate is still below demand, he added.
Explaining the PoS device, Ezetap Co-Founder and Chairman Sanjay Swamy said, "The solution is offered at an attractive price of Rs. 499 (as a non-refundable deposit) with a monthly fee of Rs. 150 and a commission of Rs. 5 per refund transaction. "
Any legitimate business can open a zero balance checking account with SBI and any Android or Windows phone or tablet with Wi-Fi or data connection. For any PoS transaction, the amount plus commission is paid the next day to the merchant's bank account, he added.
"Also, when people know they can go to the neighborhood store and withdraw money, more people will be comfortable with keeping money in the bank and will realize over time that they can. just as easily to shop and pay directly from their bank account, "Swamy said.
The company is also a perfect example for Prime Minister Narendra Modi's ambitious "Make in India" program, he said.
"Ezetap is the only mPoS company that performs its own design, hardware manufacturing, software development, integration with banks as well as customer back-end Online Transaction Processing (OLTP) systems, to provide a complete solution for customers. business issues, "Bose said.
Analysts believe that as India grapples with the issue of financial inclusion, with operating costs and user fees being an important dimension, these technologies can provide an efficient, secure and cost-effective alternative.
In addition, the growing demand for fast and secure payments in industries ranging from banking and insurance to e-commerce, especially in rural and unbanked areas, has also contributed to the growth of mobile payment solutions companies. , according to analysts.
"Our effort is to develop cost-effective and affordable solutions that can not only help expand financial inclusion, but also provide ways for other businesses like e-commerce to expand to small towns and villages across the world. India, "Bose said.
One such example is the deal signed with the State Bank of India, where Ezetap will provide the public sector bank with 5,000,000 PoS devices over 5 years, he added.
Elaborating on the company, he added that Ezetap has a presence in several countries in Africa and Southeast Asia. Its clients include leading e-commerce businesses, bill payment and collection, insurance, consumer goods, restaurants and hospitality, retail, taxi services, among others.
"We have over 5,000 merchants, including a mix of large corporations and SMEs in over 600 cities, many of whom are using our new cash @ PoS service," Bose said.
Meanwhile, Swamy said e-commerce companies like Big Basket, Urban Ladder and some of the largest online retailers in India are also using Ezetap devices for collecting cards on delivery.
In insurance, Bajaj Allianz is a client, while Janalakshmi and Micropension use Ezetap's solutions to provide financial services, he added.
"We are also expanding our presence outside of India. Over the next six months, Ezetap's service will go live in two Southeast Asian countries, one in Africa and one in the Middle East." , Bose said.
The company already provides services to BIDCO, the main producer of agricultural products in Kenya.