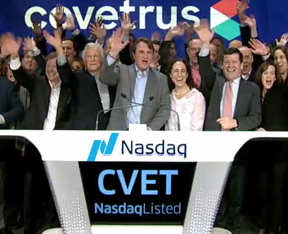 Covetrus to go private in $4 billion sale – News
Covetrus_IPO
Screenshot from Nasdaq Facebook video
Officers and directors of Covetrus celebrated the company's listing on the Nasdaq stock exchange on February 8, 2019. Just over three years later and at approximately half of its opening price, Covetrus agreed to d be private by a pair of private companies. stock companies.
Covetrus has agreed to be taken private by two investment firms in a move that would end the veterinary services giant's brief and lackluster run on the Nasdaq stock exchange.
Covetrus is an international company that provides product distribution software, practice management and online pharmacy services for veterinarians. The Portland, Maine-based company was created from the merger of Henry Schein Animal Health and Vets First Choice in early 2019.
Private equity firms Clayton, Dubilier & Rice (CD&R) and TPG Capital offered $21 for each Covetrus share not already owned by CD&R, which owns an existing 24% stake in Covetrus.
The tender offer implies an "enterprise value" for the entire company of $4 billion, Covetrus said. In financial parlance, an enterprise value includes the value of a company's debt as well as its equity. The offer values ​​Covetrus' equity at approximately $2.93 billion.
The offer per share announced on Wednesday is $1.34 higher than Covetrus' closing price of $19.66 on Tuesday, representing a relatively modest premium of 6.8%. However, shares jumped around $18 last Friday after Covetrus first revealed it had received an offer.
The offer is still a long way from the $41.01 closing price of Covetrus stock when it listed on Feb. 8, 2019 — its all-time high.
"This transaction is an important milestone for our company, our shareholders, our employees, our customers and our partners," said Benjamin Wolin, President and CEO of Covetrus and a member of its Board of Directors. the announcement. "Not only does this agreement deliver compelling value to our existing shareholders, it allows Covetrus to continue its mission to achieve positive outcomes – both commercial and medical – for veterinarians around the world."
According to the announcement, Covetrus plans to keep its current management team in place, continue to offer the same products and services, and maintain its corporate headquarters in Portland.
The transaction, which has the support of the Covetrus Board of Directors, is expected to close in the second half of 2022, subject to it receiving shareholder support and customary regulatory approvals.
CD&R and TPG declined to comment for this story. Covetrus did not respond to questions from the VIN Information Service.
More than three years as a public company
Covetrus was born from the union of a well-established player in the veterinary field and an impetuous newcomer. Henry Schein Animal Health was one of the nation's largest distributors of veterinary products and a leading provider of practice management software. Vets First Choice was an online veterinary pharmacy, prescription management and data analytics company launched in 2010. Like Covetrus, the new company had 90% of US veterinary practices as consumers in some capacity (with customers in Canada, Europe, Australia, New Zealand, China and Brazil as well), according to information provided by Covetrus. Together, Schein and Vets First Choice had $4 billion in revenue in 2018.
At its inception, Covetrus was led by Benjamin Shaw, who had served as CEO of Vets First Choice. His father, David Shaw, founder of Idexx Laboratories, one of the two largest veterinary diagnostic laboratories in the country, was chairman of the board of Covetrus.
In an industry facing constant consolidation, some veterinarians have expressed concern that the merger will further reduce the number of product and service providers.
Covetrus was rocked in its first year by earnings that disappointed Wall Street and a plummeting stock market value. A pair of pension funds have filed a class action lawsuit, accusing the company of making false and misleading statements to artificially inflate and maintain the stock price. Senior executives and board members left, including the two Shaws.
The case is nearing a $35 million settlement, judging by a motion filed by the plaintiffs on May 9.
The company recorded a few wins in its first three years. NVA, one of the largest hospital chains in North America, announced in October 2019 that Covetrus would be its preferred partner for prescription management. In addition, Covetrus rolled out new practice management software and other technologies for the US market and beyond.
In 2020, Covetrus acquired a majority stake in Veterinary Study Groups, a membership organization made up of owners of more than 1,800 independent practices. In a surprise move this year, the company installed Matt Salois, former chief economist of the American Veterinary Medical Association, as VSG president. In 2021, Covetrus acquired Veterinary Care Plans, known as VCP, which administers companion animal welfare plans on behalf of 1,000 practices.
Who are the proposed owners?
CD&R and TPG Capital are not newcomers to the veterinary sphere.
CD&R is a private investment company founded in 1978 and based in New York. This first invested in Vets First Choice as part of a $40 million+ package in 2015, and CD&R partner Ravi Sachdev joined the board at the time. The company's stake has grown over the years and after the merger. Sachdev remains on the board of Covetrus.
According to the announcement, CD&R has managed investments of more than $40 billion in more than 100 companies with an aggregate transaction value of more than $175 billion. Its website portfolio page features primarily healthcare, industrial, technology, and consumer brands.
TPG, based in San Francisco and founded in 1992, manages $120 billion in assets. He invested heavily in the companion animal and animal health sectors before. In the early 2000s, TPG partnered with another private equity firm take petco private, then public, then private again. The TPG-led investment group eventually sold the giant pet products retailer to private investors in 2016. (Petco went public again in 2021.)
In 2019, TPG has acquired Greencross Vets, Australia's second largest consolidator, with approximately 150 practices and a pet products warehouse. TPG sells a 45% stake in Greencross to two pension funds, one Australian and one Canadian.
Disclosure: The VIN Information Service is part of the Veterinary Information Network, an online membership community for the profession. VIN and its entities offer services that overlap with those of Covetrus, such as customer portals, email and SMS reminders, ongoing training, mentoring and marketing support. VIN News operates separately from other VIN services.
VIN News Service Commentaries are opinion pieces featuring ideas, personal experiences and/or views on current issues by members of the veterinary community. To submit a comment for review, email news@vin.com.